The Army Heritage Center Foundation is transforming aspirations for the U.S. Army Heritage and Education Center into reality through the Heritage of the American Soldier Campaign.
Engaging more philanthropic-minded friends than ever before, the campaign is providing the means to:
Build and expand U.S. Army Heritage and Education Center public facilities
Enhance the visitor experience, the Center's collections and education programs where federal funds are inadequate or unavailable
Promote the Center as a national resource and a major tourist destination
The campaign seeks to raise $46 million. That is a bold goal to attain a bold ambition, which is exactly what friends and donors who are passionate about the Foundation's mission expect.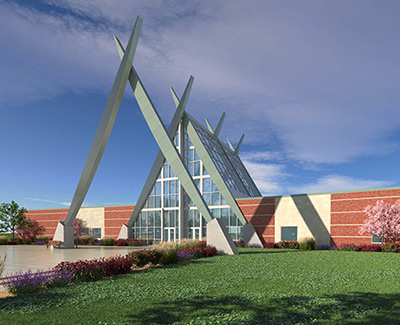 Beyond being a premier national destination, the Hall of the American Soldier will be the defining architectural feature of the U.S. Army Heritage and Education Center. When completed, the Hall will add 30,000 square feet of exhibit, educational and conferencing space to the campus. The state-of-the-art addition will accommodate large-scale events and programming for Veterans, students, and the general public.  Included in this goal are funds to upgrade and expand exhibits.
The U.S. Army Heritage and Education Center is the U.S. Army's premier historical archive and strategic information research center – inspiring and informing the U.S. Army, the American people, and global partners with an enduring source of knowledge and thought. The Foundation supports the Center with innovative and impactful programs that educate K-12 students, college students, and adults about the contributions of Soldiers and the U.S. Army to our Nation's history.
For over 20 years, the Army Heritage Center Foundation has worked to establish and expand the U.S Army Heritage and Education Center. Excellence in Operations funding will provide for additional years of financial and human capital, while providing the means to innovate and develop additional ways to honor the American Soldier. The fund also will establish a $10 million Secure the Future endowment to help ensure sustainability for future generations.
Recognition Opportunities
Prominent and permanent recognition and naming opportunities are available for major gift donors. Please contact the Foundation's development team at 717-258-1102 to learn more.
Campaign Leadership
Honorary Campaign Chairs
Co-Campaign Chairs
Campaign Committee