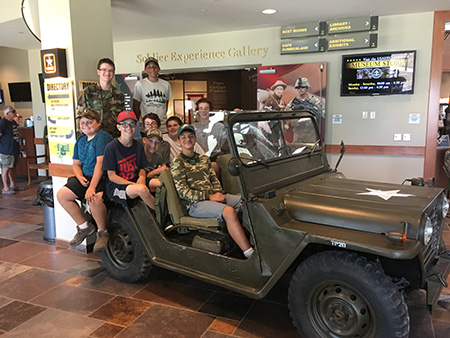 Soldier Experience Adventure Camp is a hands-on living history experience for students in grades 7-10. The camp is held at the U.S. Army Heritage and Education Center and its outdoor Army Heritage Trail.
Students experience the daily routine of soldiers, train for historical combat challenges in realistic drills, and learn about conflicts that shaped America's history. Certified educators, who are dedicated to promoting a safe, respectful learning environment, lead the camp. Each session is limited to 24 campers. The U.S. Army does not fund, sponsor, or manage this program.
Cost
$350 per camper (includes lunches, snacks, and long-sleeved t-shirt); $100 deposit required
Register and submit deposit before April 15 to receive $50 off the registration fee!
Sessions
Session 3: August 3-7, 2020, 8 am to 4:30 pm
Permission Forms
Parents or guardians of registered campers must complete and submit these forms:
Policies
To provide a fun and safe environment for campers, the Soldier Experience Adventure Camp operates according to the following policies:
Payment and Cancellation Policy